Overview
Z-COM has invested in heterogeneous network integration R&D for years. Through partnership with global leading Telco operators, we've accumulated abundant experience in telecom system integration with Wi-Fi- extended broadband network, to offload traffic from 3G/4G mobile networks as well as providing mobile network coverage with less cost. Over the years, Z-COM's carrier grade solutions are used to deploy massive scale of Wi-Fi hotspots and various applications for smart city.
The new Z-COM carrier-grade wireless network solution introduces Software Defined Network (SDN) architecture, with Edge Computing concepts for Artificial Intelligence of Things (AIoT) applications. The solution offers higher wireless bandwidth, separates control and data plane for edge computing, that provides customized products equipments and software with compatibility, stability, scalability, and security for mobile network operators. Z-COM solutions offer best cost/performance value, with rapid deployment and easy management tools that help telecom operators reduce capital investments and operating expenses, accelerate cost recovery and increase profits.
Solution Features
Abundant Experience in Telecom Collaborations for Integrating Wi-Fi with Telecom Service Systems
.Accelerate the lead time for Proof of Concept (POC), and providing customized solutions for installation.

.Integrate Wi-Fi with 3G/4G core networks, to create network for seamless roaming with different RF.

.Support various communications protocols and call flows which correspond to authentication (AAA, 802.1x, Captive Portal).
Centralized Management Platform to Optimize Performance and Efficiency
.Support Wi-Fi SON technology for easy and fast network deployments.

.Configure and upgrade massive scale AP via Centralized Management Platform.

.Integrate network diagnostic tools for monitoring and troubleshooting at remote, to reduce network maintenance cost.

.Introduce new management platform in SDN architecture, to save hardware investments for network equipments upgrade in the future.
Advanced Hardware Design Embedded with Flexible and Reliable Software
.Integrate design with RF and software, to provide excellent signals for wireless coverage and mechanism to reduce interferences at same or near channels.

.Support both central forwarding and local forwarding modes, to flexibly plan network for each customer.

.Support Wi-Fi WPA3 standard, providing security for user-related data at highest level.

.Prevent network service interruption via highly reliable N+1 Redundancy.
A Wide Range of Carrier-Grade Wireless Access Points for Deployments in Various Environments
.Support reliable access for multi-users in high density population area via latest OFDMA/MU-MIMO technology.

.Integrate access points and bridges with high power and high gain antennas for rural area deployments.

.Robust design with IP67 and 14 Grade wind resistance for outdoor environment.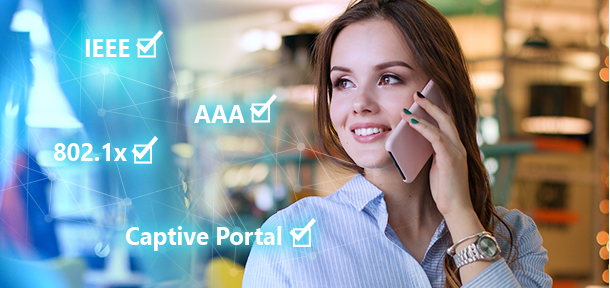 Application Scenarios

Smart City

Wireless network is the foundation for building a smart city. It makes the city more efficient and drives economic development. Z-COM provides carrier operators with easy to deploy, manageable, and cost-effective network solutions.
Hot Spot
Z-COM helps telecom operators to deploy hotspots, and provide free Wi-Fi services to retain current clients. Telecom operators can also work with the government to build a smart city or cooperate with SMBs to open up new business opportunities. Whether in a park, shopping malls or restaurants, everyone can enjoy unparalleled Wi-Fi experience.
Network Architecture