In the advent of Wi-Fi 6 era of enterprise, industrial control systems, and carrier-grade, Z-COM, with professional R&D, firmware, and software engineers, provides reliable and multi-interfaces solutions, Z-COM SoM-260 development kits (DVK), to realize the vision of smart life and its future development. The Z-COM SoM-260 DVK features Wi-Fi 6 and supports flexible customization and expansion with multi-interfaces, including Ethernet, RS232/485, USB, and Bluetooth, etc. for optimizing the development circle and cost.

The multi-interfaces of Z-COM SoM-260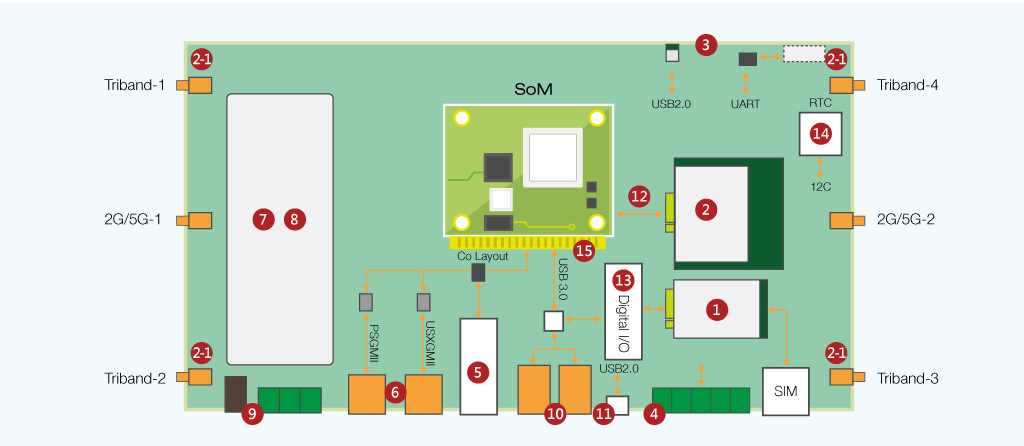 1. Support 5G NR and 4G LTE Backhaul
Increase the capacity with low latency and high-speed connection for multiple wireless applications, including 5G NR, 4G LTE and Wi-Fi network.
2. Expand the Wi-Fi 6 / 6E
2-1. Wi-Fi 6 External Antenna Connectors x 4
Expand the Wi-Fi 6E triple-band 6GHz, 5925-7125 MHz. Option the Z-COM AX-931 Wi-Fi 6E module for stable connection and 5GHz interference with 6GHz band pass filter (BPF), 6105 - 7125 MHz.
3. Bluetooth 5.0 / 5.1 / 5.2 x 1
Optimize the reliable and stable of devices, allow high-speed data transfer, and reduce power consumption.
4. RS232 / RS422 / RS485
Mainstream serial communication interfaces for the application of long distance data transmission.
5. SFP x 1
Small form-factor pluggable transceiver supports the 4.25Gbps data transfer rate.
6. RJ 45 x 2
2 pieces of RJ45, supports the 2.5Gbps data transfer rate, one of them with PSE, which powers for IP Cam.
7. PoE (Power Over Ethernet )
Provide the network cables carry power without extra cables and time for IP Cameras, wireless base station, and Voice over Internet Protocol.
8. PSE (Power sourcing Equipment)
Support multiple power levels of power over Ethernet.
9. Power section
Include wide range, redundant, and DC power input, that are ideal for the IPC and industrial control systems.
10. USB 3.0 x 2
2 pieces of USB 3.0, which are compatible with USB 2.0 and USB1.1.
11. Console
USB 2.0 debug interface.
12. PCIe 3.0
Expanded interface of Wi-Fi 6 / 6E
13. GPIOs(General-purpose input/output)
Communicate both incoming and outgoing digital signals.
14. RTC(Real-Time Clock)
Feature the low power consumption is deal for the IPC and industrial control systems.
15. SMARC(Smart Mobility ARChitecture)
Z-COM SoM-260 with Smart Mobility ARChitecture, a standard for embedded modular computers development with ARM-Cortex, as the core of a single chip, is connected to the development version slot through SMARC.
16. Dying Gasp
Option for the dying gasp, which monitors the stability of power while the devices power off.


The Z-COM SoM-260 with carrier board will make a debut in Q2 of 2021.
If you have any questions regarding our products about Z-COM,