Z-COM outdoor Access Point designs for public outdoor environment and features wide-range of wireless coverage with internal antenna, which is able to support more than 500 devices and ultrafast and reliable connectivity.

The Z-COM SP230, 802.11 ac wave 2 2 x 2 dual band outdoor access point with Qualcomm chipset, supports a maximum rate of 1167Mbps. Z-COM SP230, build-in power amplifier and internal antenna accomplishes the excellent connectivity with wide distance and is ideal for the hundreds of users who are in the public outdoor environment.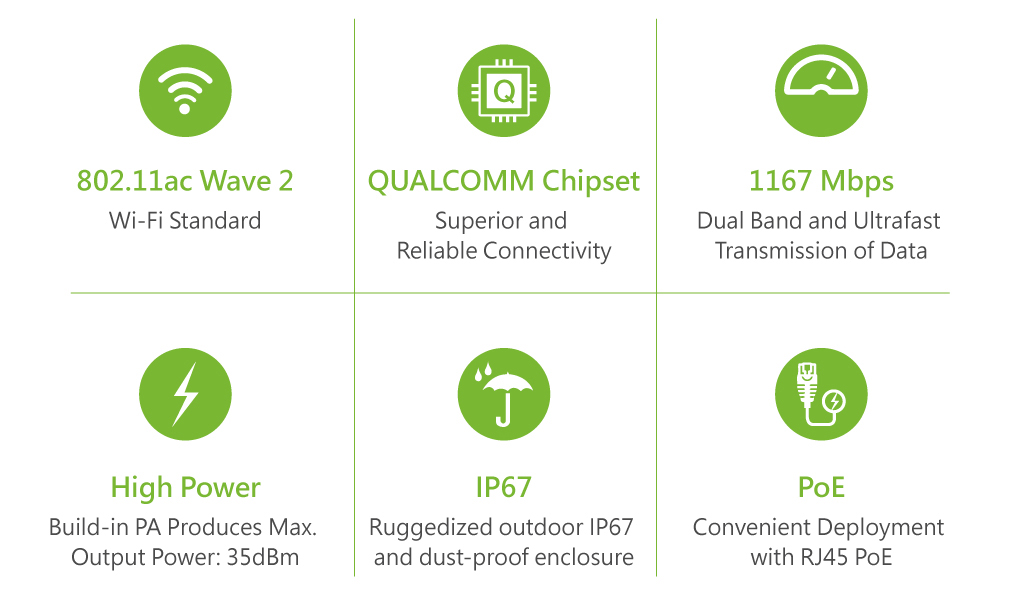 Wide-Range of Wireless Coverage

The Z-COM SP230 with 2 pieces of 5dBi internal antennas and amplifier produces is performed to wide-range Wi-Fi transmission and measured distance more than 500M, which is designed for public outdoor area.
Hardened-grade for Outdoors

With an outdoor waterproof, IP 67, dustproof enclosure, and lighting protection with CE certification, the Z-COM SP230 can be used in various weather conditions.
Standard PoE Sourcing for Convenient Deployment

Included RJ45 PoE port features cost-effective deployment to smart surveillance applications and the other AP.
Easy and Flexible Installation

The Z-COM SP230 provides the necessary parts for installation and features Plug-and-play and configuration free for easy installation outdoor.
Centralized Management with Security

Z-COM SP230 are allowed to configure and manage multiple APs in a centralized manner through Z-COM Wireless LAN Controller that include remote monitor, troubleshooting, and efficiency-optimized, and enjoy simple management, configuration and monitoring of all access points.
The Z-COM Wireless LAN Controller with zMEC, the platform for edge computing and PaaS, manages virtualized applications and import software by any x86 servers under different applications to realize the AIoT solution.
Practical scenarios Recommend